So this is kind of heinously late. But I made a bunch of Christmas cookies with friends and family in December. There was a lot of awesome food too, although our cookies looked the best of all. I took some photos to document it although I wish I had more process photos, it was quite an undertaking, let me tell you. these were also taken with my crappy razor cell phone so excuse the quality.
there were several plates off cookies stacked high in addition to putting some of them on desert trays.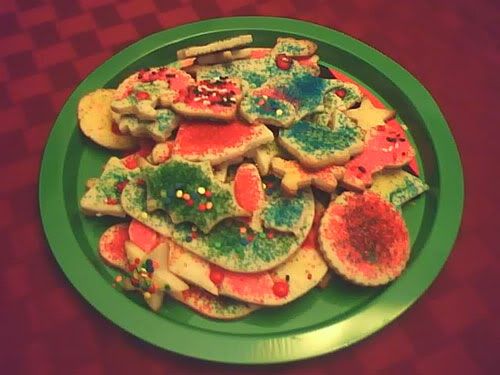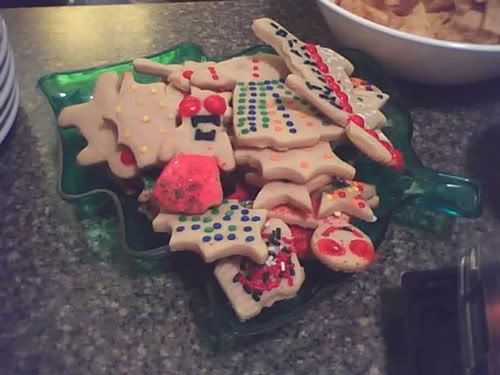 wait a second... what's that weird looking one?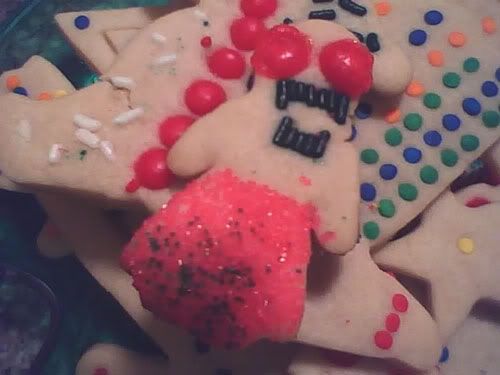 Out of all the cookies I made this was my favorite one. I figured I should make AT LEAST 1 creepy monster cookie among all the holiday themed ones.
Even though he looks scary with his melty red eyes and huge green sprinkle maw, he just wants to be friends with everyone so he wears a pretty pink dress to try and let everyone know that.
At least I think that's a dress, it could be the blood of his victims... I'll let you be the judge.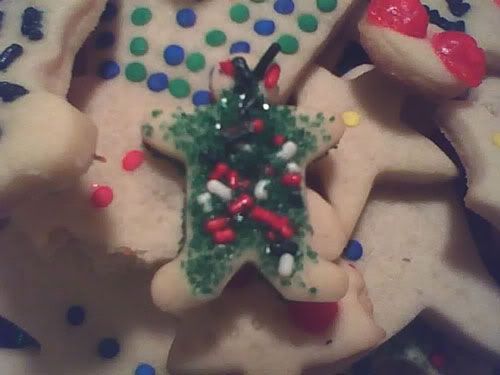 There were a few other monster ones. My friend Su and I made a pair of zombies, this one was mine, he had some kind of weird 3D proboscis eyes and mouth that got a little jumbled in the end game. But he's still a blood thirsty sugar cookie zombie despite his deformities.
Unfortunately by the time I went to take a picture of Su's zombie twin SOMEONE HAD ALREADY EATEN IT!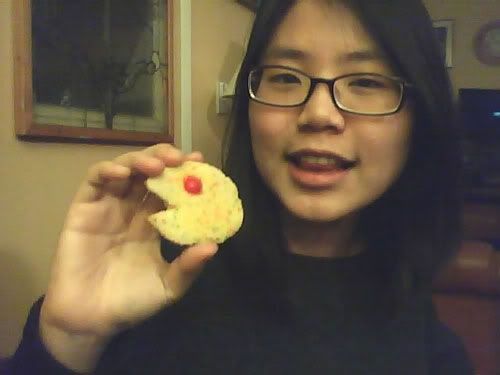 Su's Pac-Man cookie survived long enough for me to get a picture of her displaying it.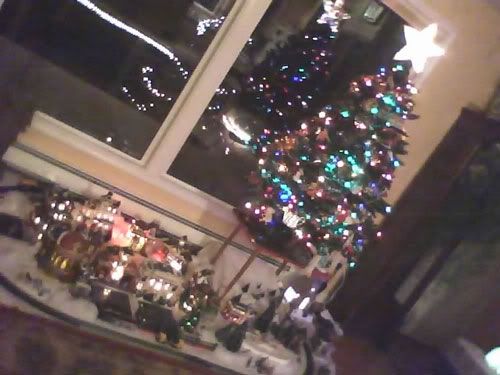 The Christmas Party was at my friend Maddy's house. Her mom has this neat village set up with a working train set(also Elvis' house). It was funny when all the toddlers arrived because they crashed and broke it at least 5 times before it had to be put away.
One of these days I will remember to bring a PROPER camera to holiday/exciting events... It was fun doing this photo blog, so hopefully this will be the first of many to come.