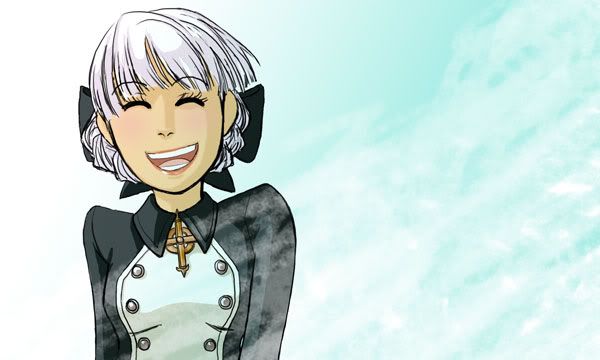 Did the Alice one awhile ago, and finished the Yuri one tonight. These are the two main characters for Shadow Hearts, a game for the PS2 back in.... 2000 I think... maybe 2001. In any case Shadow Hearts 1 and 2 are some of my favorite games of all time, And I play a lot of video games. The storylines of both games are amazing, the characters are quirky and wonderful, and the games are a lot of fun to play(the battle system in the 2nd one ROCKS). I could write a whole essay on why I love those games, but I'll spare you all that...
So just in case you haven't played these games(If that is the case, GO BUY THEM NOW.)I won't give any spoilers, but in the first one... *sniff* the ending to the first game still gets to me, even if I did get the GOOD ending, it doesn't matter since the BAD one is cannon :( kinda sucks how that happens...
I honestly don't know why I haven't done more fan art of these guys, especially since Yuri is one of my favorite characters ever.