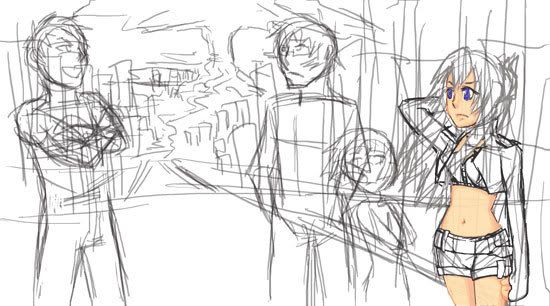 Working on a new top image that will probably take a week or so. Haven't done much yet, but just wanted to post an in progress drawing of it so far.
It feels like forever since I've drawn Meggido Characters! I hope they're not mad at me... They are my main story after all...
I just got a little side-tracked coming up with/refining other stories and characters.... *nervous laughter*
I'm gonna try and divide up my creative time so that I can come up with 3 simultaneous stories to work on. Meggido of course is the main one, the still unnamed Andoroid story is the 2nd one, and the 3rd one is about supernatural stuff and of course has no name yet. I'm going to make seperate blogs for each of the supsequent stories, and this main one will be for Meggido and random art stuff only. I'll be sure to post links etc, when that happens.